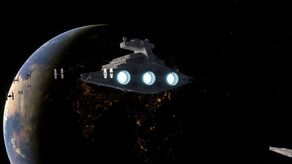 Battle Over Earth, the Battle Over Earth was the first major battle of the Galactic Civil War.
Pre-battle,
An Imperial fleet stationed over Earth was ambushed at around 9:30pm eastern standard time. Lady Of The Acolytes Of The Beyond Asajj Ventress personally abducted then American President Barack Obama as leverage to persuade the world leaders
Battle,
The battle lasted for nearly eight hours with five billion people witnessing ships engage each other, Admiral Trench was forced to withdraw after Imperial reinforcements arrived.